Do 07 Mai 19:00 alt.sex: In the celluloid flesh
Do 07 Mai ab 21:00 e~scape lounge EPY CD Release Party
Do 14 Mai 21:00 inauguration sex.t0.or.at 23:00 performance
Fr 15 Mai 19:00 Cherie Matrix (London, UK) Lecture and Q&A Session
Sa 16 Mai 14:00 Cherie Matrix (London, UK) Workshop
Do 21 Mai 21:00 e~scape lounge lo-res.org/lo-ser/s/a/sexy/tour_98
Fr 22 Mai 19:00 Constance Penley (Santa Barbara, USA)
So 24 Mai 14:00 dolores' bulimic breakfast
Mi 27 Mai 19:00 FetishDiva Midori (San Francisco, USA )
Do 28 Mai 21:00 e~scape lounge BOBO 3000
special appearance FetishDiva Midori
Do 07 Mai 19:00 alt.sex: In the celluloid flesh
A celebration of 4 decades of censored bizarre and deviant erotic sinema by Danny Holman (London, UK/Prag, CZ) Presentation of Video-Archive

In der Veranstaltung werden zensierte, erotische bis pornographische Videos und Filme aus den letzten 4 Jahrzehnten präsentiert und die Aktivitäten von Terminal Bar in Prag vorgestellt. Die Videos können den ganzen weiteren Monat gegen Vorlage eines Ausweises im Media~Space! gesichtet werden. Achtung! Einige Videos enthalten extreme Szenen. Nur für Menschen mit guten Nerven und ab 18 Jahre!

The Terminal Bar is a multi-media cafe situated in the centre of Prague, Czech Republic, which provides internet, books, magazines, videos, events and coffee in a cultural climate of information sharing and fringe thinking.
See: http://www.terminal.cz/~video

Danny Holman abandoned a career in the vacuous music promo industry and helped to start up and run the Exploding Cinema in London which successfully championed the virtues of low/no budget film-making. For the last 3 years he has been living in Prague - organizing underground film-screenings and helping to manage the Terminal Bar and run it's film and video department.

Do 07 Mai ab 21:00 e~scape lounge EPY CD Release Party
EPY are presenting their recent release "Schall und Rauch"
(Sabotage/Craft 32).
Their liveset will feature a wide variety of musical paradigms ranging from heavily processed noise patchworks to electro.
Eintritt 30.-

Do 14 Mai 21:00 inauguration sex.t0.or.at 23:00 performance
performance:irene laviña visuals:clitoressa sound:die mäuse
special appearance:rubber retro quartet
Glamour night – Dresscode
e~scape lounge
Eintritt öS 30.-

<base href=http://sex.t0.or.at><meta name=author content= La Hostess><meta name=classification content= SEX - you can't make it unpopular - a positive guide><meta name=description content=SEX uses real media, css, javascripts and more to explore: there's always something to learn and play with><meta http-equiv=keywords content=SEX, forget about two sexes + half, beyond leather, must knows, oral pleasure, fetish, d/s, bm, bdsm, trans, tomboy, viva la vulva, vampyre kisses, toys, shequeens, pearl diving, self-gratification, SEX comes in many flavours, gender blenders, lesbian, bi, gay, on the go, dominatrixes, pomosexual, sissyfication, nt as in nipple torture><meta name=Creation_Date content=01 26 1998><meta name=Last_Update content=today>

Irene Laviña is a nomadic media(ted) performance artist. She appears as various virtual personae. Tonight, a mediated appearance by Mistress Helena Pearce.
Clitoressa is a french comtesse who would gladly trade cooperation models for hierachic structures in order to gain maximum pleasure from her stunning media production activities. She is muse and consultant at sex.t0.or.at.
Fr 15 Mai 19:00 Cherie Matrix (London, UK) Lecture and Q&A Session
Feminists Against Censorship – Pornography and Censorship-Issues on the Net

Feminists Against Censorship recognizes that:
1. Censorship is a dangerous tool that is primarily used to suppress dissent from those who would challenge oppression by society and the state, and particularly victimizes minorities.
2. Censorship is used by those in power as a way to avoid dealing with serious, intractable problems in society that require real, imaginative action, and are not solved by banning words and images.
3. Women must have recourse to free expression in order to explore the truth of our own experience and sexuality that has been forcibly hidden from us for millennia, and the state must no longer be permitted to interfere with this discourse.
4. Censorship can never eliminate evil ideas, and so the best answer to bad speech is more speech.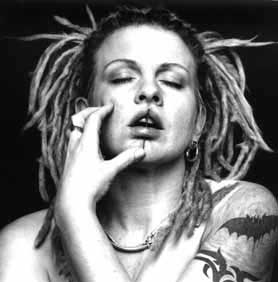 Cherie Matrix has been an active anti-censorship campaigner since her early twenties, Matrix edited the Feminist Against Censorship anthology Tales From the Clit (1996, AK Press. London, Edinburgh, San Francisco). She has become a bit of a celebrity, appearing as England's "babe" feminist whenever her distinct point of view is needed. Matrix presently works as a co-ordinator in the flourishing multimedia industry.
Feminists Against Censorship was formed in London in 1989 to give a voice to the many anti-censorship feminists who felt they were being silenced by the anti-porn movement, which puported to represent a desire on the part of all women, and all feminists, to censor pornography. To a large extent we see our role as educational, both in terms of making people aware of the long anti-censorship history in feminism and the verying attitudes women hold.
See: http://www.fiawol.demon.co.uk/FAC

Sa 16 Mai 14:00 Cherie Matrix (London, UK) Workshop
Online Dating – A practical guide?

A fun web-sex workshop: how to place and reply to contact ads on the WWW. The workshop will also explore whether net dating is just fantasy, role-playing only or if there is also true love to be found out there (if anyone wants to find it, that is...). Info and registration: workshop@t0.or.at



Do 21 Mai 21:00 e~scape lounge lo-res.org/lo-ser/s/a/sexy/tour_98
Silicon generated sounds from the farside of vienna. aesthetical irresponsibilities may or may not occur during procedure.
Yes, we have carpets !

Fr 22 Mai 19:00 Constance Penley (Santa Barbara, USA)
Sex, Lies, and the Internet (and Video and TV too)

The efforts to regulate ideas and images on the Internet can be understood only in the context of concurrent attempts to censor art and television. Rather than existing as a world unto itself, cyberspace intersects and overlaps the other electronic realms of video art and television in messy, impure ways. This presentation will offer a case study of the interlocking forms of censorship of the whole electronic realm and suggest some tactics for evading them.

Constance Penley is Professor of Film Studies and Women's Studies at the University of California, Santa Barbara. She has written and lectured widely in the areas of feminist theory, media and cultural studies, and science studies. Along with the recent NASA/TREK: Popular Science and Sex in America, she is the author of The Future of an Illusion: Film, Feminism, and Psychoanalysis, the editor of Feminism and Film Theory, and co-editor of Male Trouble, Technoculture, and The Visible Woman: Imaging Technologies, Gender, and Science. Penley is a founding editor of the feminist media journal, Camera Obscura.

So 24 Mai 14:00 dolores' bulimic breakfast
Sonntagsbrunch mit Constance Penley

dolores' bulimic breakfast wird ab Mai in loser Reihenfolge zum Sonntagsbrunch laden: Social Networking bei Kaffee und Kuchen und Diskussion mit geladenen TheortikerInnen.
http://www.t0.or.at/dolores/ e-mail: dolores@t0.or.at

d o l o r e s . seeks to render patriarchy powerless.
d o l o r e s' . main aim is to explore forward-looking concepts for women of the 21st century.
d o l o r e s . doesn't want to extend history into the future.
d o l o r e s . is a collective effort to generate diverse content and unexplored concepts.
d o l o r e s . attempts to empower her readers through joyful participation in collective activism.
d o l o r e s . is an ongoing work in progress, open to input of all sorts, and focusing on a dynamic interaction with her viewers and visitors.



Mi 27 Mai 19:00 FetishDiva Midori(San Francisco, USA )
Digital Decadence? Sex and Taboo in the Information Age

Every evolution in information technology has been accompanied by expansion of sexual expression for the masses. As the Information Age accelerates the dissemination of erotic images and ideas, how does this affect the power of taboo and fetish? Is this leading to greater expression of individualism and healthier personal relationships? Or is this leading to callousness and dehumanization? Midori will discuss the current state of SM, fetish and taboo sex on the net and how it effects individuals as well as greater communities. She will also share how she uses the net and information technology in her daily life as a well known fetishist, artist and dominatrix.

Christened "FetishDiva" Midori lives a life few could imagine. Domina, educator, author, model, performer, muse, and self confessed jock, she travels tirelessly in fear her life could one day get - ordinary. To date it's been a journey on roads that never intersect the one she just left. She may very well be beyond the laws of physics.

Raised "Happa Howlei" (half white) in a feminist household in Tokyo, she moved to America at age 13. Bookish and bright in high school in the Pacific Northwest. Intelligence officer in the US Army, she graduated University of California, Berkeley with a degree in Psychology. Unsatisfied with corporate day jobs she edged into the San Francisco sexual underground until it was clear she had found a home.

Mentored by these world class perverts, she found the people who celebrated their differences and claimed sexual expression as their birthright. Confidence growing with her sizable fetish wardrobe, she was soon modeling for local fetish designers Dark Garden, Catherine Coatney, Stormy Leather, and So Hip it Hurts. Apprentice in a respected San Francisco dungeon she learned "the ropes" of consensual sadomasochism from the bottom and the Top. Trained as a volunteer for the San Francisco Sex Information telephone hotline she was invited back as a staff member where she helps others through the 50+ hours of training in communication and human sexuality.

http://www.FetishDiva.com (Michael Blue © 1998)



Einführung ins Internet: jeden Montag 18:00
Teilnahme gratis, Voranmeldung nicht erforderlich

HTML Workshops
Basic HTML: Wie einfache Web-Sites gemacht werden.
Advanced HTML: Tables, Image Maps, Frames
Super Advanced HTML: Style sheets, Layers, Javascript

Internet-Kenntnisse Voraussetzung.
Voranmeldung und Info: workshop@t0.or.at

Fr 01 Mai 17:00 Giga - die "Technikfreunde" treffen sich ;-)
(jeden 1.Freitag im Monat um 17:00)
diese veranstaltung wendet sich an jene technikfreaks, die ueber die konventionelle nutzung von gadgets hinausdenken koennen. kreative geister mit jeder menge knowHow sind gerne gesehen :-) was wir diesmal machen steht noch nicht so genau fest. chrismess erzaehlt was ueber sound-programmierung. vielleicht gibts wieder einige details mehr ueber GNU hurd/mach4? und konrad versucht es nochmal mit der signing party (PGP) [schickt doch endlich Eure keys!]: Keys an: konrad@giga.or.at
URL: http://www.giga.or.at/~konrad/sp.html

Public Netbase t0 Media~Space!
A Culture and Youth Oriented Center for New Communication Technologies
Public Netbase t0 is a non-profit Internet service provider. Along with being an internationally acclaimed content developer, the organization also runs an comprehensive event and information program in the Viennese Museumsquartier. Public Netbase provides its 1000 users with the technical assistance and knowledge needed for active and creative participation in Internet communication and the World Wide Web. Its existence has fostered the growth of an interesting and lively Internet scene and has increased awareness of the implications of new communication and information technologies in Austria. Public Netbase is committed to the exploration of the relations between culture and technology, art and society, science and politics. Its World Wide Web Server was awarded the Prix Ars Electronica 95.

Public Netbase wird gefördert von
Bundeskanzleramt - KUNST Wien Kultur Bundeskurator Wolfgang Zinggl

Mit freundlicher Unterstützung von
(in alphabetischer Reihenfolge) audiOrama Bank Austria Depot. Design&Möbel IDEAL communications Lexmark Österreich TU Multi Media
Design: sense \ njet
content processing: anti_print
merci le team