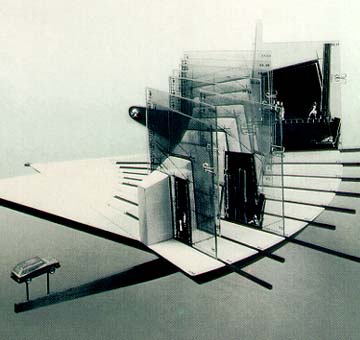 A NEW POETICS of SPACE
Art Architecture Art
This exhibition will present visionary concepts from the borderline area between art and architecture with 55 spectacular architectureal models, multimedial forms of documentation and 144 artworks.

The Kunsthalle has organized "A New Poetics of Space" in collaboration with the Nouveau Musée (Villeurbane) as a confrontation and comparison of architectural and artistic concepts of space. This project visualizes to what extent the boundaries and disciplines are called into question and how art and architecture can influence and teach other in an aesthetic sense.
Both in art and in architecture, debates in recent decades have revolved around such fundamental issues as the design and and function of space. In particular, the vitaly movement of architectural deconstructivism has helped overcome the sense of crisis or stagnation with regard to the issue of space. In the Centre region of France, the local fund for contemporary art (FRAC, Centre, Orléans) has, in recent years, built up an impressive collection on experimental architecture and space-oriented art projects.
List of artists:
Absalon; Vito Acconci/Robert Mangurian; Asymptote; Bernd&Hilla Becher; André Bloc; Bodo Buhl; Betty Bui; Chris Burden; Daniel Buren; Ernst Caramelle; Coop Himmelb(l)au; Odile Decq & Benoît Cornette; Luc Deleu; Elizabeth Diller & Ricardo Scofidio; Peter Downsbrough; Eichinger oder Knechtl; Peter Eisenman; David Georges Emmerich; Günther Förg; Ernst J. Fuchs; Ludger Gerdes; Dan Graham; Rodney Graham; Andreas Gursky; Zaha Hadid; Martin Honert; Robert Irwin; Marin Kasimir; Tadashi Kawamata; John Knight; Imi Knoebel; Rem Koolhaas; Ben Langlands & Nikki Bell; Daniel Libeskind; Didier Marcel; Gordon Matta-Clark;Morphosis;Leonel Moura;Juan Muñoz; Eric Owen Moss; Miguel Palma; Claude Parent & Paul Virilio; PAUHOF; Hermann Pitz; Hugues Reip; Thomas Ruff; Michele Saee; Rüdiger Schöttle; Robert Smithson; Thomas Struth; Studio Works & James Turrell; Bernard Tschumi; Hans Peter Wörndl; Hideyuki Yamashita; Shoei Yoh; Heimo Zobernig/Franz West.
Symposion "Art & Architecture"
The Kunsthalle Wien is organizing a symposion on the relationship of art and architecture. Theoreticians, architects and artists will address the basic issues underlying the exhibition project in lectures and panel discussions.
Halle A1, Museumsplatz 1, A-1070 Wien
Saturday, December 7, 1996, 2 -5 p.m.
Grenzgänge zwischen Kunst und Architektur / Fragen der Sammlung und der Präsentation Participants:
Jean Louis Maubant, direktor of the Nouveau Musée/Institut d'Art Contemporain, Villeurbanne Frédéric Migayrou, secretary of the FRAC Centre, Orléans Leonel Moura (artist), Lissabon (speech: "Art, Architecture, and Radical Democracy") Moderation: Christian Theo Steiner, curator Kunsthalle Wien Saturday, January 18, 1997, 2-5 p.m.
"Ist Architektur eine Kunst?"
Participants:
Daniel Libeskind, architect, Berlin
Moderation: Dietmar Steiner, director of the Architekturzentrum Wien
Saturday, January 25, 1997, 2-5 p.m.
"Plastisch denken, räumlich handeln/Der Freiraum der Kunst"
Participants:
Ernst Caramelle, artist, Frankfurt/Main
Werner Fenz, director of the Neue Galerie Graz
Herbert Lachmayer, Hochschule für Gestaltung, Linz
Gerald Matt, director of the Kunsthalle Wien

Information: Dietlinde Bügelmayer
e-mail: dbuegelmayer@t0.or.at
Tel.: +43-1-521 89- 21, Fax: + 43-1-521 89-60